Just got to H Town.
I'm tired and about to jump in the shower…well not jump but ya know.
The flight was long and crowded, but I survived.
I can't wait to eat some good food tonight and see some friends.
2 days and counting till this stinky cast comes off my foot.
Thank goodness.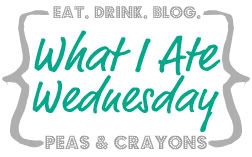 Let 's get on with our WIAW, shall we?!
Every Wednesday, bloggers worldwide, share our eats for the previous day.
Jenn started it, she's awesome…

Breakfast – A combo of egg whites, oatmeal w/flax seeds and 1/2 of a banana.
I love this breakfast – full of protein and fiber!
And insulin, of course.
I decided to try a new recipe mid-morning and it was AWESOME.
I promise to post it soon.
Sweet Potato Ranch Chicken Gouda Wonton Roll Ups.
Big Name, Big on Flavor
Lunch was more cabbage soup, with very cute lunch dates!
A couple of cheese cubes and crackers for mid-day snack w/ some vino and a nap finished off my afternoon.


Dinner meant date night…
We headed to Chaud Cafe for drinks, fries, couscous and a chicken sandwich for me!
Delicious.
Dessert was our homemade treat.
Yum.
After catching up on some TV, it was early to bed for us.
xoxo from Houston